Non MS based data warehouse exploitation with MS PowerBI tool? It can be done!
Power BI is a data visualization tool from Microsoft company that can combine a wide variety of data sources within a single report to support interactive analysis. These reports support both operational and strategic processes, while also providing the daily statistical data to the users through self-service reports.
Power BI is able to manage IBM DB2 data sources, so the data stored in the DB2 DataWareHouse can be used in the dashboards that are created, once the database is accessed. As data transformations and KPI-s/Measure-s based on the source data can be developed within the product, users can be able to shape the raw data to their own criteria without the need for more sophisticated data transformation products.
Two methods for using data sources in the product:
In Import Mode, Power BI imports all the data used as a source into its own report file (.pbix), which results in a significant increase in file size. This may be recommended in cases where the user does not have unlimited access to the source data or when the file is only for individual use.
In Direct Query, the report stores the data source path and authentication in the file in addition to the report structure, so the file itself is of negligible size. When the file is opened, it connects to the database and queries the database for the data stored in it when working on the dashboard, making data access a little slower than using Import Mode. Huge advantage over Import Mode is that the user can always see the most recent database changes, whereas with Import Mode the data content becomes static once the import is done. In addition, Direct Query supports file sharing, as its size means no limit to collaboration.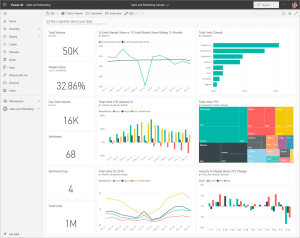 source – https://learn.microsoft.com/en-us/power-bi/consumer/media/end-user-dashboards/power-bi-dashboard.png
The following versions of Power BI products are available:
Power BI Desktop: Desktop version of the software, easy to install and use. Supports low level of collaboration
Power BI Pro: Enterprise version of the software, supports multi-user work through Microsoft 365 groups.
Power BI Premium: The version with the highest level of BI and AI functionality, with Azure Cloud built-in functions
Power BI Workspace: Cloud version of Power BI through Office 365 subscription, enabling mid-level enterprise collaboration
Power BI Report Server: Tool that supports the highest level of report sharing, the reports available as a browser-based service for authorized users to view, even concurrently